IDETEK UK INVITED TO SPEAK AT THE INTERNATIONAL SYMPOSIUM ON ENERGY EFFICIENCY IN BUILDINGS
The International Symposium on Energy Efficiency in Buildings
The International Symposium on Energy Efficiency in Buildings, took place in February 13-14, 2017 in Ankara under the scope of "Technical Assistance for İmproving Energy Efficiency in Buildings Project" which is co-financed by the European Union and the Turkish Government.
The project aims to address the gaps and needs that exists in the current energy efficiency legislation and institutional framework for new and existing buildings in Turkey, and to align these with the European policies and directives related to energy efficiency in buildings, particularly the Energy Performance in Buildings directive (EPBD).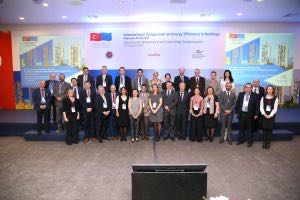 The objective of the symposium is not only to to assist the development and extension of international cooperation but also discuss and find out opportunities for Turkey in Energy Efficiency Policies and Programs, Energy Efficiency Technologies and Financing Energy Efficiency.

It is expected to have approximately 40 participants from 15 different countries to share their experiences with more than 350 participants.
The symposium will bring together public institutions, NGO's, academics, students and the representatives of the energy efficiency industry.